Projects
Our unique composition of having design, manufacturing and sales
all under one umbrella, makes us the perfect partner for global projects.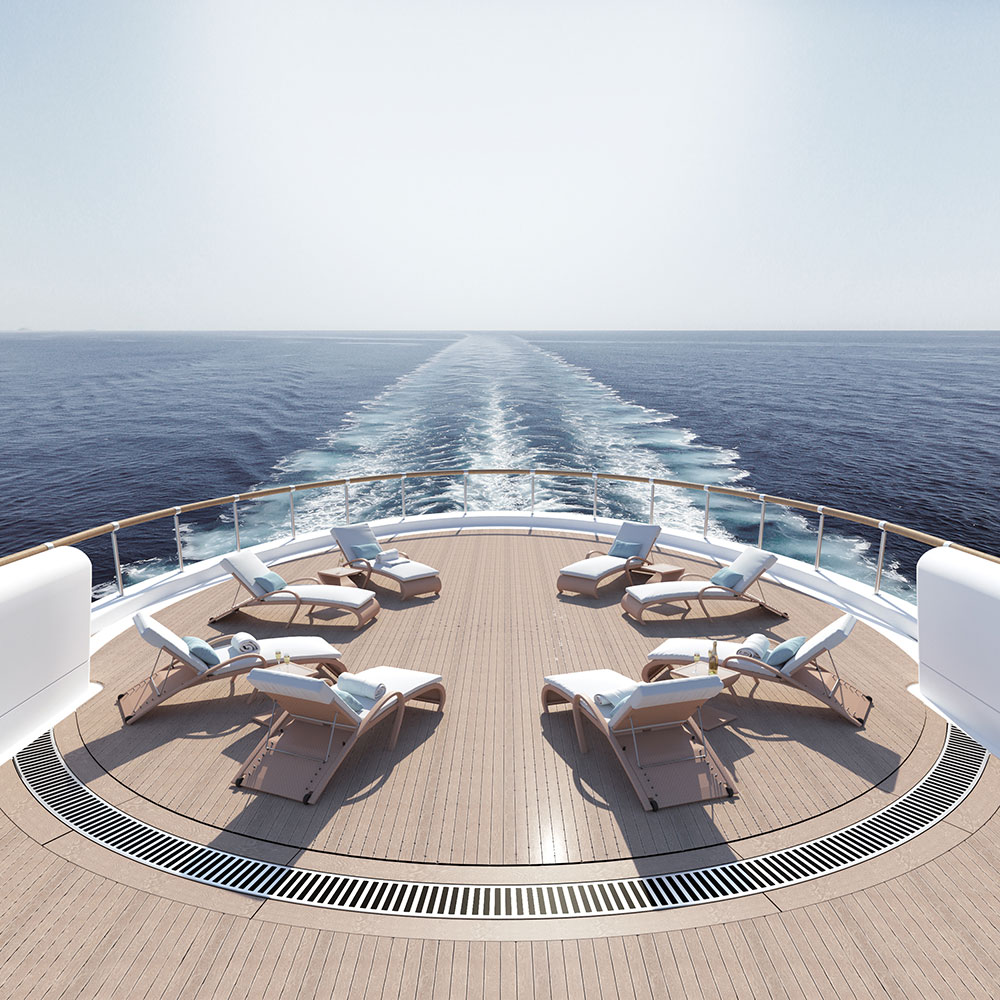 Quality outdoor furniture from BLOOM - directly from the manufacturer
Looking for exclusive patio furniture that combines timeless design and high-quality workmanship in a stylish way? Then here it is. BLOOM Outdoor Möbel produces and distributes handmade and fairly produced quality outdoor furniture.
In a world characterised by efficiency, short-term trends and fast-moving goods, quality products as well as solid and honest craftsmanship have a very special significance. All our exclusive garden furniture is carefully handcrafted from high-quality materials that are recyclable, weather-resistant and 100% UV-resistant. In our own BLOOM production facility on the Indonesian island of Java, 180 employees give each piece of furniture its own character and perfect it, both in functionality and design. The secret behind this, in addition to the experience of our employees, is the many small steps that are necessary to create high-quality balcony and patio furniture that not only meets the highest quality standards, but also oozes individuality. Well-known customers from the international hotel, gastronomy and shipping industries are regular customers. We also manufacture and sell our design outdoor furniture to private customers worldwide, who appreciate the quality and design as well as our attention to detail.

We offer a large selection of different quality outdoor furniture:
Comfort in a new dimension: Our Hemisphere outdoor hanging chair
Let your soul soar in the soothing feeling of weightlessness and find peace and relaxation in the sumptuous cushions. The open weave style provides a visual highlight to your garden or on your balcony. The hanging chair can be easily moved around your outdoor area on its robust stand or mounted on the ceiling.
Modern lounge furniture for your outdoor area
Transform your outdoor area into an oasis, with luxury lounge furniture from BLOOM. Whether for garden or terrace: our lounge furniture fits seamlessly into any existing ambience thanks to its natural look and endless combination possibilities. Create your new garden space with an outdoor lounge sofa, outdoor lounge chair and outdoor lounge table or configure a modular lounge sofa for your terrace or balcony. All BLOOM outdoor lounge furniture is made of robust and weather-resistant material. This makes our lounge furniture a lifelong companion for your outdoor area.
BLOOM balcony furniture: For your oasis in the sun, even when lacking space
Our outdoor balcony furniture combines space-saving features with maximum seating and lounging comfort. Regardless of the space available, you can create your own chill out zone outdoors, because our balcony and patio furniture is available in many different designs and sizes. Create a smaller outdoor lounge with our modular balcony furniture or group balcony chairs with a balcony table to create a cosy seating area. Our balcony furniture collections can also be combined with each other so that you can put together your own individual balcony furniture set. With our high-quality, modern balcony and patio furniture, you can create a place that invites you to linger and relax.
Handmade patio chairs and patio tables by BLOOM - perfect design and high functionality
Bring your personal style of furnishing outdoors. Our wide selection of patio chairs provides the right garden chair for every look. BLOOM patio chairs are elaborately handcrafted by our master weavers in our own production facility under fair working conditions. Our patio chairs are available in different designs: From a garden chair with armrests or an outdoor chair without a backrest.
Our patio chairs also include lounge chairs and bar chairs for every outdoor area - ideal for you and your guests. Like all patio furniture from BLOOM, they impress with their weather-resistant materials and elaborate workmanship. We also have a large selection of patio tables, which you can easily combine with your garden chairs. Whether patio table, outdoor lounge table or side table: go find your favourites right now.
BLOOM Outdoor Daybed - Large selection of daybeds of the highest quality
Our outdoor daybeds just scream relaxation. Whether it's a sun island, floating bed or hanging lounger - BLOOM Outdoor Daybeds are handmade from high-quality materials, weather-resistant in wet & frosty conditions and also UV-resistant. This makes them suitable for outdoor use 365 days a year and they do not need to be stored or put away, even in winter. Snuggled up in cosy blankets and cushions, you can also enjoy this quality outdoor furniture on sunny days in spring, autumn and winter.
BLOOM garden accessories - cushions, parasols and outdoor accessories
Round off your outdoor area perfectly: our outdoor cushions, parasols, plant and flower tubs or storage boxes are not only practical but also complete your garden or balcony. Our cozy outdoor cushions are made of weatherproof material. The canopies of our outdoor parasols are handmade, easy to clean and keep their colour even after rain or snowfall. BLOOM planters and flower pots are available in different variations and sizes, just asking to be harmoniously combined. Our practical garden storage box offers plenty of storage space for your outdoor cushions or other garden utensils.
BLOOM: High-quality garden furniture at fair prices
Extensive quality controls after each production step and a final check directly before dispatch play an essential role at BLOOM. Our distribution concept also allows for an excellent price-performance ratio. Every order is handmade on demand, i.e. only after receipt of a customer order, do we begin production and we send it directly to you without detours via importers or middlemen. Thanks to direct sales, we also save the costs normally associated and pass this onto our customers.